Difference Between Google Maps, Google Street View and Google Earth
Google has overlapping applications for GPS and navigation services – Google Maps, Google Street View and Google Earth. Of these 3 services, Google Maps is definitely the most popular one. Contrary to popular belief, Google Street View and Google Earth are actually different from Google Maps, though they are related. In this article, we'll be defining each of these services in detail so that you know their differences.
From the conceptual viewpoint, the objective for all these 3 applications differs – Maps for travelling, StreetView for exploring and Earth for visualizing. Each one of them have different histories and different personalities –
Google Maps
Site – https://maps.google.com
Origin – Acquired from Where 2 Technologies in 2004
Launched – February 8, 2005
Google Maps is Google's navigation service on both desktops and smart devices. The application is primarily used to set and create routes between destinations all over the world, supplying multiple options for those routes (car, bus, plane, foot, etc.) and allowing users to change them at any time. Google Maps also provides real-time traffic and navigation, giving turn by turn direction to reach destinations. In addition, it supplements itself with the information of the spots or places that find their position in maps.
Google Maps is best known for converting your mobile into a travel guide, giving you turn by turn directions to reach your destination. While picking out a travel oriented tablet is quite easy, the choice becomes difficult when you consider the number of tablets that supports Google Maps.
Google Street View
Site – https://www.google.com/intl/en_ALL/maps/streetview/
Origin – In 2001, when Google sponsored Stanford University research project called The Stanford CityBlock Project
Launched – 2007 in the US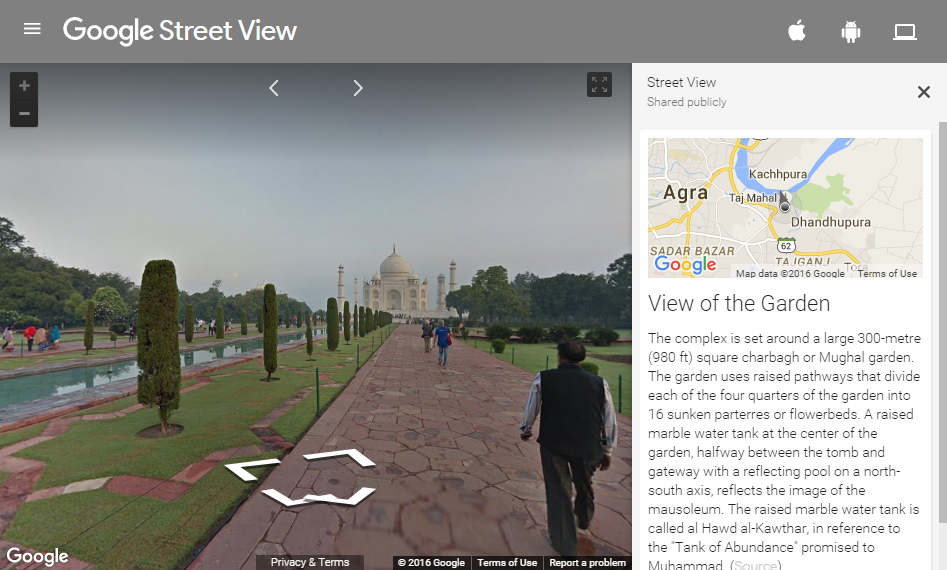 Street View is a part of both Google Maps and Google Earth, and it allows users to view the panoramic stitched images of streets. This was made possible through Google's vans that drive all around the areas, allowing a 360-degree view of every stop along the road at most addresses. This is particularly useful to learn about the on-ground situation. However, these images can be outdated by few years, but are silently updated at a given time. Picking up the Pegman and dropping it at any place will open up the Street View in Google Maps.
Street View released as a part of Google Maps in 2007, starting in just a few popular American cities before spreading to rural areas and the rest of the world. Apart from vans, they are also employing boats, camels, snowmobiles and underwater apparatus to capture some of the remotest areas. Street View has evolved over time, too, allowing users to contribute to Street View and Googles via user-made panoramas and what's kns the "Trekker", a backpack with a 360-degree camera.
Google Earth
Site – http://earth.google.com/
Origin – In 2001, when Google sponsored Stanford University research project called The Stanford CityBlock Project
Launched – 2007 in the US
Google Earth is a virtual globe of the Earth, and zooming in will allow you to view satellite images of the Earth, which are also viewable on Maps. You can zoom-in till street level which utilizes data from Google Street View. Google Earth is in 3D whereas Google Maps are rendered in 2D and thus Earth offers better visualization, but it also required separate software to run.
With Google Earth, you can discover cities in 3D, fly around the world and view historical imagery of popular places. It also includes visualizations from Mars, Moon, sky, and the ocean.
Interestingly, Google Earth precedes both Maps and Street View. It began as a program made for viewing satellite images of the Earth on a vast 3D modelization of the globe in 2001. Later it got acquired by Google in 2004. But with the introduction of Maps in 2005 and Street View in 2007, it became a part of a much larger entity from Google, with the intent on mapping and showing the world around the user.
All these 3 services are joined together for the complete experience but it does not mean they are one. They are different entities, playing their role in Google's grand scheme of things.
Was this post helpful?
Let us know if you liked the post. That's the only way we can improve.