Google's Recursion Loop Easter Egg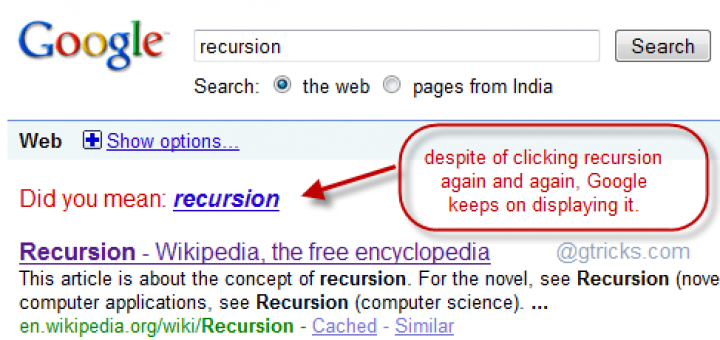 Google never fails to entertain us. This time when you search for Recursion on Google, it keeps on running spell check and displays Did you mean: recursion again and again.

Recursion is the term usually used in Computer Science and this word generally means – to have a activity again and again, forever because the activity itself consist of same activity. It is like two mirrors facing each other and displaying infinite trail of opposite images.
In recursion, the objects are repeated for infinite times. The iteration runs forever. Google displays this quality when you search for recursion.
Despite of clicking on recursion from spell checker – Did you mean, Google will keep on displaying it. Though the spelling is right, Google keeps on telling it again and again.
Try – http://www.google.com/search?hl=en&q=recursion
[via Reddit]
Was this post helpful?
Let us know if you liked the post. That's the only way we can improve.