Inbuilt lyrics for MP3 Players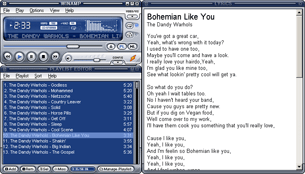 Frustrated with messed up lyrics of your favorite rhythm or feat ?
Here I will give you two choices, select as per your caliber.
Method 1 : (for stupids)

Go to google.com
Type song name plus lyrics in search box eg. "akon smack that lyrics".
Select one from approx 300,000 results. Very confusing,which to opt for : lyrics.com, azlyrics.com, metrolyrics.com, lyrics007.com etc.
Wait for these sites to open. You get lyrics with large amount of crap.
Copy the lyrics to notepad for future use.
Each time when you want to listen song,you have to manually search for lyrics file from your computer.
Method 2 : (for smarties)

Download a lyrics Plugin, as per you MP3 player ,say Winamp,JetAudio,Windows Media Player etc.
Let the Plugin do all the work for you.
You just play your favorite songs, Plugin will search for its lyrics and will save them automatically.
Advantage: Automatic synchronization.
Disadvantage:Internet connection required.

I use lyricsPlugin,easy to install,easy to use and most of all, its very efficient.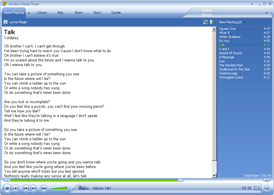 Lyrics Plugin is a piece of software tailored for music fans. To put it simply – it is an add-on to view lyrics in WinAmp or Windows Media Player. No more searching for lyrics. Just start listening to your favourite songs and lyrics will be displayed automatically. Oh, and if lyrics is not found, you can add it yourself :)