How To Easily Add Citations in Google Docs (MLA, APA, and Chicago)
Citing sources is one of the most important parts of academic writing. And if you are using Google Docs for your academic writing, then you must know how to cite a source in Google Docs. Google Docs actually makes it very easy to cite a source as a footnote in a document. You can search for the source right inside the document and then cite it using MLA, APA or Chicago formats with not more than a few clicks.
In this post, I am going to show you how to add citations in Google Docs in MLA, APA, and Chicago formatting.
Cite sources in Google Docs
The source to cite can be searched inside the Google Docs document, so you just need to click where you want to cite and follow the below instructions:
Click on the "Tools" menu at the top and select "Explore" from it. Alternatively, you can also press Ctrl+Alt+Shift+i keys to directly open it.
This will open a side panel where you can see topics and images related to the content of the document. You'll also see a search bar at the top where you can add related keywords to the source or directly enter the URL of the source to find it in Google search.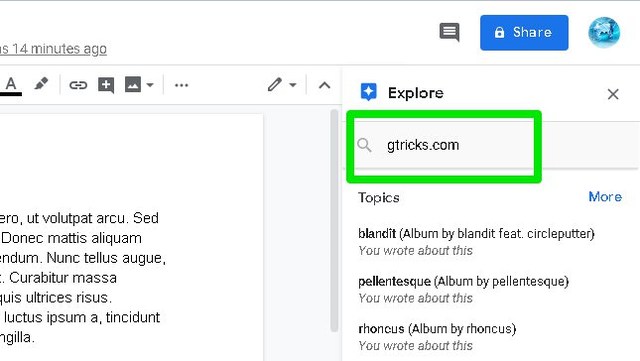 Once the source page has been found you can click on the three vertical dots menu at the top-right corner to select citation format, including MLA, APA, and Chicago.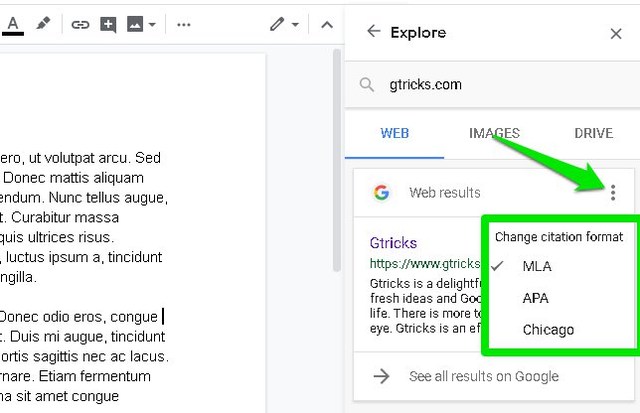 Afterward, hover your mouse cursor over the source result and "Cite as footnote" button will appear, click on it.
This will cite that source at the bottom of the page in the footnotes section and add a number in the area where you cited. Do keep in mind that this will add the source in the footnote of the current page, it will not be at the very end of the document.
Ending words
Honestly, Google Docs makes it extremely easy to cite sources in three of the most popular formats. This feature becomes more apparent when you need to cite dozen of sources and all you have to do is search and click to cite with Google Docs. Let us know in the comments if you find this feature useful.
Was this post helpful?
Let us know if you liked the post. That's the only way we can improve.