Use the Volume Key to Scroll Through Your Favorite Apps Without Root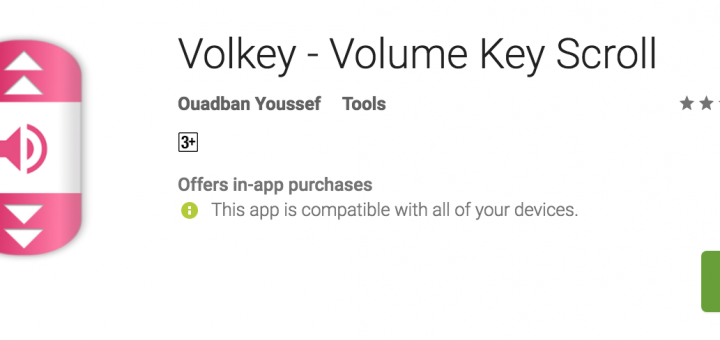 Update: Volkey scroll is no longer available
While it's not always the most useful thing in the world, I've always found the idea of scrolling with volume buttons to be pretty cool. Any developer who implements it in their app in my mind gets special brownie points. It's may seem like an obscure feature given many OEMs are including fingerprint readers with swipe gestures these days. But if you're among the majority without a fingerprint reader, and think this feature could come in use, Volkey Scroll is an Android app which allows the volume key to scroll on any of your favorite apps.
Use the Volume Key to Scroll in Chrome & Other Apps
The way it works is quite simple. Pressing the Volume Up key simulates a touch gesture which resembles scrolling upwards and pressing Volume Down triggers the opposite action. Since Android doesn't system root for simulating touches, it's possible to use the app without rooting.
But the app nonetheless has an extra option of using root access to make scrolling smoother. Most of the features in the app are free, some minor perks are left for users who make an in-app purchase (Rs. 95) such as setting the scrolling speed.
RELATED: Stitch Multiple Screenshots & Capture Long Websites on Android
How to Use the App
Step 1: Launch the app and press Start service.
Step 2: This will prompt the app to ask for permission to enable accessibility. It will automatically take the user to the Accessibility settings where it can be enabled.
Step 3: Select Global activation to enable for all apps. Or press the Plus fab icon to only include certain apps.
The scroll speed, area and other attributes are controlled from the settings. If that's not enough each app can also be specifically modified with different values. And it doesn't stop there. Other notable features include:
Shaking to initiate the service
Defining a scrollable area
Setting how far to scroll
Inverting the button actions
A timeout for when to stop scrolling
It's up to you to decide whether you found the scrolling to be better with or without root. Be sure to give it a try and let us know if you liked it!
RELATED: Read Books, Articles Faster Using This Speed Reading App & Extension
Was this post helpful?
Let us know if you liked the post. That's the only way we can improve.