Turn Your Gmail into To-Do Lists with Sortd [Detailed Guide]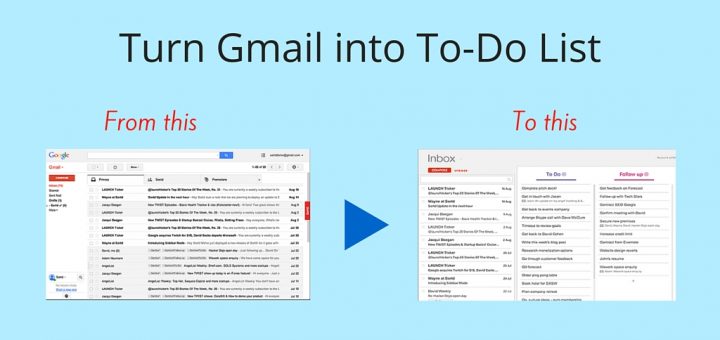 Getting your inbox organized is tougher than it used to be, if you don't take care of it. However, everything has a solution which doesn't involve you doing much and one of those solutions is "Sortd", a Chrome extension that turns your Gmail inbox into a set of to-do lists making life much easier. Getting a hang of this neat little utility can be tough, which is why we present you with this guide.
What is Sortd?
Sortd is basically a Gmail skin that turns your inbox into a list interface where you can sort your conversions into different lists like "To-Do", "Follow-Ups", "Party RSVPs" or anything else you wish. All you need to do is just drag and drop your messages into the list you want and voila, you are sorted.
Gmail also has similar functionality with tabs, where you get different Primary, Social and Promotional inboxes. However, the tabs does not give you full view of mailbox at once, there is no actionable to-do list and classification is algorithm based with no manual inputs resulting in higher inaccuracy.
As such, Sortd lists are actionable and gives you more control on each list and on individual mails. It also combines best of Inbox by Gmail with features like reminders.
How To Setup?
First, go to Sortd.com and register yourself to get an invitation code as this service is currently a Private Beta. Don't worry, this won't take long. It will take maximum an hour for you to receive a mail that will contain the invitation code. If you don't, ask me and I'll send you one as registered users can invite 10 people.
Now go to the Chrome web store and install Sortd extension. Then, head to your Gmail inbox and on the right edge, you will now be greeted with a small label that says "Sortd", click that and within a couple of minutes depending on your inbox size, you will be auto transformed into lists.
How To Get Started?
As soon as you move to the Sortd interface, there will be one left panel that will hold all your emails and right panel which will have your lists.
You can switch back to the original Gmail layout anytime you want by clicking the red tab on the right edge. Before getting into this, I would advise you to edit the title of your default lists according to your needs. You can do so by clicking that small arrow icon on the right of a list which will reveal options like "rename list", "delete the list", "add a new list" and "add a task". I usually keep three lists including "To-Do", "Follow up" and "Important".
Once, you have setup your lists, you can drag-and-drop emails from the left pane to the list.
It is not necessary to add every mail to the list. For effectively organizing your inbox, add only those emails that you want to deal at later point. For other mails, you can directly act from left pane.
Getting To Know The Platform
Now let's understand the different elements of Sortd. You already saw how to move a email to a list and customize a list. But this platform offers way more control over your account than just that.
#. To reorder the list items, you just need to hold the particular entry and move to the desired location. The task with the highest priority usually goes at the top. By default, the list item is named after the email's subject line. To alter this name, double click on the title and it will let you change it.
#. To mark a task in the list complete, hover over a list item that will have two new icons. One for marking the task complete and the other one that has options like "Archive", "Edit title", "Delete", "Highlight". Use Highlight to make the item stand out from other items using different colors.
#. To check other labels/folders, click on the arrow ahead of that huge "Inbox" heading at the top left corner.
#. To add deadlines and reminders, open up a conversation/task and on the right of that pop up, you will find a panel that lets you write down some notes, you can add due dates and reminders from there too. However you'll have to grant some permissions it starts alerting you through notifications.
#. To sort and filter your tasks, you can use the small drop-down above the list pane. You can filter your tasks by "Unread", "Follow-ups". There's also a feature to switch to a date view which works flawlessly and is quite useful if you work with deadlines.
#. To search, you can use the search box above left inbox pane which will also include results from list. However, there are no advance search options as with regular Gmail. Therefore, you should either switch back to Gmail interface from right label or use Gmail search keywords in the search box.
Related: Sorting Gmail by Size, Labels, Subject and Senders
#. To get into work mode, click "Close Inbox" link on the left above your conversations and you'll see only your tasks and hiding the remaining messages. This will let you focus more instead of nudging to organize the rest of the emails.
Miscellaneous
Sortd also offers a way to use the good old Gmail inbox with a sidebar of your lists which works fairly well if you don't want that full screen interface. To get that, click that tiny arrow below the red "Gmail/Sortd" tab on the right.
You can even make use of the shortcuts that are defined in the General settings which you can disable too. To log out of Sortd, you will need to hit your email address on top of the Sortd board and then the Logout button.
As the service is still in private beta, it is still free to use. However, it might adapt freemium model in future where you get certain features free of cost while others require subscription.
Form the security perspective, the extension requires access to Chrome's history to know when to load up the extension. They also have access to your email address and mails but never your password. You can safely disconnect Sortd anytime from Google Security permissions page.
Conclusion
Using Sortd is really easy and it provides a simple way to organize your tasks from Gmail. If you prefer separate lists functionality from inbox, then you could use Trello with Gmail. This combination is recommended if you work on multiple projects else for simple workflow, Sortd works best.