Ilya Repin Birthday Doodle on Google Russia Homepage: 2009
Google is celebrating birthday of Ilya Yefimovich Repin, Russian – Ukrainian artist and painter, on the home page of Google.ru.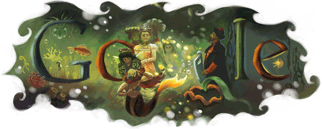 Ilya Yefimovich Repin was born on 5th august 1884. He was considered the most prominent figure of nineteenth-century Russian realism. He started painting portraits at a very early age to earn money for entering into Saint Petersburg Academy of Arts, where he studied from 1864 to 1871. [Wiki Page].