Canada Day Google Logo, This year and Previous Years
Google celebrated Canada day by its well-known style of changing its Home page logo. This Doodle replaces l of Google with a Canadian soldier with red uniform.

Canada day is celebrated as anniversary of 1 July 1867 when British North America Act was passed. Dominion day is another name for this famous historied event. (Wiki page for more information).
Google displayed the above doodle at its Canadian home page. Google have been criticized previously for not changing the logo in 2008 and 2003. Google has made a tradition for celebrating Canada day since 2001. Previous year's logos were influenced by Canadian natural richness (animals and maple leaves).
In 2001:


In 2002:


In 2004:


In 2005:


In 2006: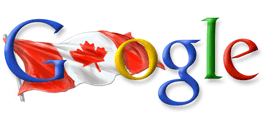 In 2007:

Related : Creator of Google Doodles