5 Best YouTube Channel Name Generators To Get YouTube Channel Name Ideas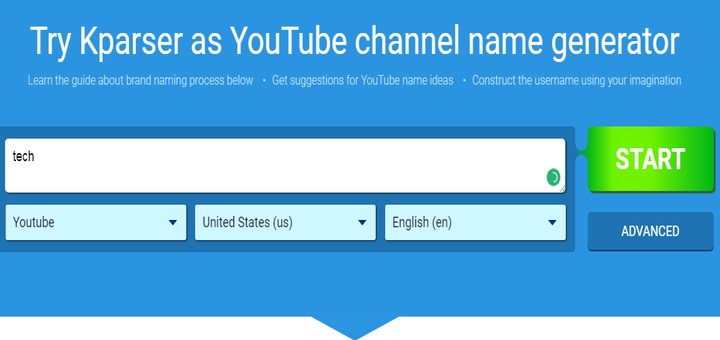 If your YouTube channel name isn't interesting or hard to remember, then you'll definitely have a hard time getting to the top. However, coming up with an available catchy name that also represents your topic isn't that easy. You'll at least need name ideas to pave your way to that perfect channel name that truly represents your channel's focus. And this is where YouTube channel name generators will help you.
There are many cool YouTube name generators that can generate catchy YouTube names using custom prefix and keywords. And this post, I'll share 5 of the best YouTube name generators that use different algorithms to generate interesting YouTube channel names.
1. SpinXO — Best YouTube name generator
I'll start with the most comprehensive YouTube channel name generator that should work fine for most users unless you have specific needs. You just need to provide your niche, topic, keywords, your interests, and important words. SpinXO will show a list of 30 YouTube channel names in 3 separate columns. You can click on the "Spin" button to generate more names using the same information.
Most of the names will be two words and some could be three words. If you like a particular name, click on it to see its availability on YouTube and a few social media sites like Twitter, Instagram, and Blogger, etc.
Tip: You can also click on the "Spin" button without providing any details to generate random YouTube names. The collection is very interesting with many single word names as well.
If you want a YouTube name with a particular keyword in it, then this YouTube name generator can do wonders. I am not sure what algorithm this name generator uses, but somehow it always comes up with names that match your particular keyword. Just provide the keyword and the total number of names it should generate (max 300), and hit the "Generate Username" button. A three column list of YouTube names will open containing 2-3 words names.
Interestingly, YouTube Username Generator comes up with both made-up names and actual names. Most of the made-up names are easy to pronounce and are very catchy. I will especially recommend this YouTube name generator if you want a made-up name.
3. Kparser — Generate SEO YouTube names
This YouTube channel name generator is for those SEO gurus who care more about YouTube search ranking than a cool YouTube channel name. Kparser is actually a keyword suggestion tool, but it also has a YouTube name generator that only shows names that people are actually searching on YouTube. Just provide the keyword and press the "Start" button. It will start generating YouTube names that are currently being searched on YouTube.
Of course, most of the names won't be very interesting, but I also noticed some interesting ones for keywords like tech, Windows, and Android, etc. You can also upgrade to Pro version to see search volume and CPC for a particular keyword.
Tip: Do check the YouTube brand name guidelines provided below the Kparser name generator. There is tons of information on how to create catchy YouTube name.
4. Name Generator 2 — Funny YouTube name generator
If you particularly need a funny YouTube name generator, then this one might interest you. Although it isn't focused on funny YouTube channel names, but most of the names are full of humor. Unfortunately, Name Generator 2 isn't very customizable, you can only provide a prefix or suffix and it will add them accordingly to its own database of YouTube names.
The tool only generates a single YouTube name when you click on "Generate YouTube Names" button, but the generated words are added to a list below. You can click on the names you like in the list to add them to your favorites and easily copy them later.
This one is similar to YouTube Username Generator as in it also generates made-up YouTube names, but it has some interesting customizability options. After providing the keyword, the tool lets you select number of characters you want in your name. This basically allows you to generate short YouTube names that also include your specific keyword.
It will generate total 80 YouTube channel names at a time listed in four columns. If you like a keyword, just click on it to see its availability on YouTube and 9 more social media sites. If you are looking for a short YouTube name generator, then this is the best choice.
Ending words
So these were 5 of the best YouTube name generators I know. There are a few others as well, but I honestly find these 5 to be reliable and unique. SpinXO should be your choice if you don't know what you need. Although others are also very useful in their own unique way.
And if you are confused with so many names that you like, you can go for multiple channels in YouTube but merging them later will be a challenge.
Which one of these YouTube channel name generators do you like? Share with us in the comments below.