8 Ways Your Google is Changing with Star Wars
Google is highly getting into the spirit of Star Wars with a lot of hidden surprises in the box. As the premiere is approaching near, Google is giving Star Wars makeover to many of its apps. Though, most of this Star War experience is evident on Google products, there are few in the form of hidden Easter eggs. We have made a complete list of interface changes and Easter eggs with Star Wars transformation. And we will keep this list updating as and whenever Google adds new experiences.
In a recent announcement in Google Blog, the company mentioned that they have worked with Lucas Film and Disney to create special experience in form of Easter eggs in Google products. The Easter eggs will be available from now till 18th Dec when the movie hits the screen. Google has incorporated Star Wars Easter eggs in it's Android Wear watches, Google Calendar, Chrome, Chromecast, Gmail, Google Maps, Google Now, YouTube, Inbox by Gmail, Google Translate and Google Search. Have a look on these experiences and hidden Easter eggs found out till now.
First Choose Your Side – The Light Side or The Dark Side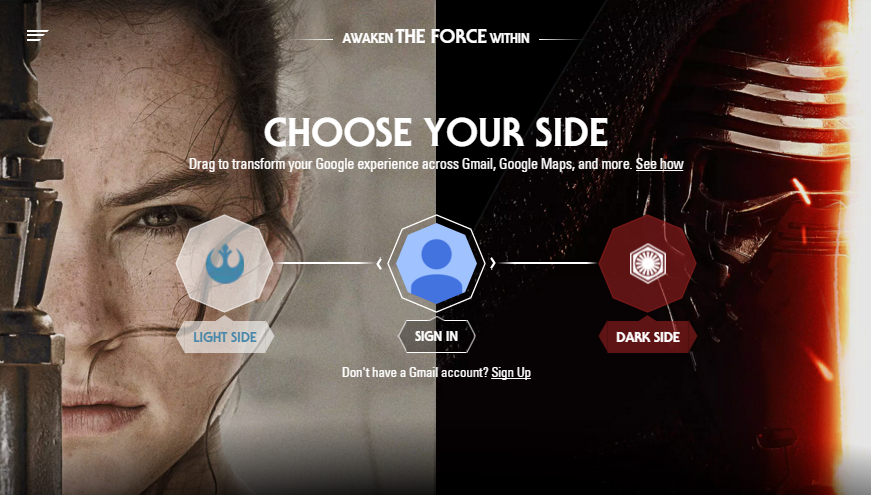 Google has created a special website to give a splash of Star Wars in your Google Products – Awaken the force within Google. You will have to choose your side first and then you will experience a whole lot of wonderful Google Easter eggs before the premiere hits your nearest halls.
1. Google "A long time ago in a galaxy far far away"
Go to Google search and type "A long time ago in a galaxy far far away" and see the search results displays as rolling yellow text in deep space, mimicking the classic intro to every Star Wars movie. Google has provided a pause button to stop the motion and you can scroll the results through mouse.
2. Customize Your Gmail into a Star Wars Battle Zone 
Ready to fight for your side? Sign into your Gmail account and see your 'Progress Bar' transform into a LightSaber. Thats not it! When your inbox opens, you will find a new Star Wars theme in your inbox. Change sides to see different backgrounds. Here is what I saw when I opened mine-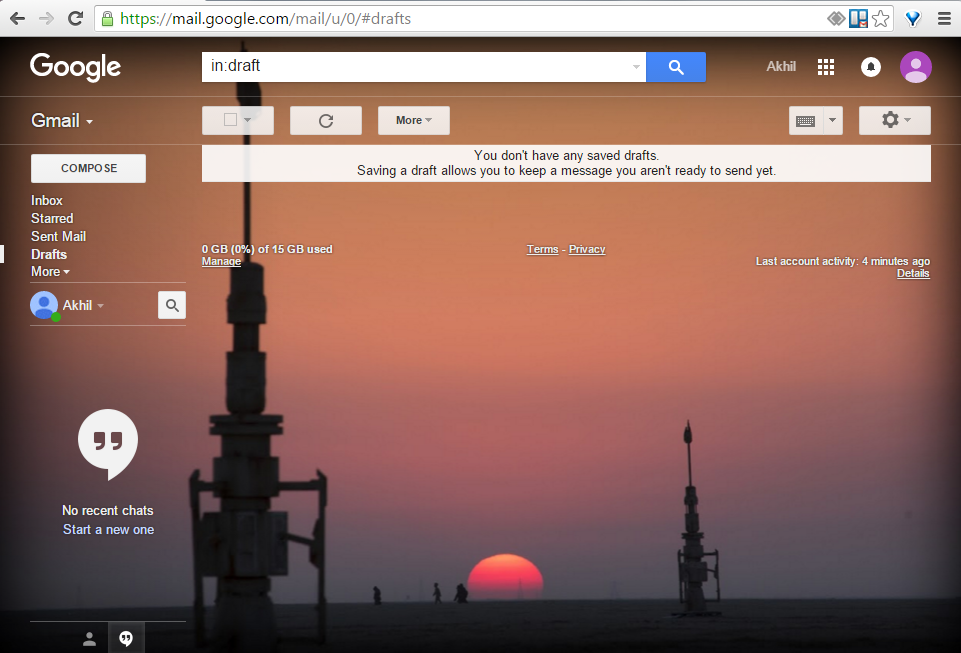 3. Beautiful Artwork When You Reach 0 Mails in Inbox by Gmail
If you reach zero mails in Inbox app, then Google treats you will a beautiful Star Wars artwork that probably you won't find anywhere.
4. Find Star Wars Events in Your Google Calendar
Go to your Google Calendar and navigate to 16th December. You will be amazed to see some Star Wars events already there. I saw two events – one on 16th December and the another on 18th December. Find out what are your events.
5. Learn the "Aurebesh" language with Google Translate
'Aurebesh' is the written language used in Star Wars. Go to Google Translate and translate any supported language into Aurebesh. Just type the script in the box and try to communicate in Aurebesh.
6. Transform your Pegman into a X-Wing pilot or a Stormtrooper
Navigate to anywhere in Google Maps in your desktop and notice something unusual with the pegman. For your amusement your plain yellow pegman with a red tie has transformed into a X-Wing pilot or a Stormtrooper depending upon the side you choose. Apart from this you can also fly a Tie Fighter in your Google Maps android app.
7. LightSaber Progress Bar for YouTube
Your Video 'Loading Bar' and 'Progress Bar' in YouTube will turn into a Blue or Red colored LightSaber. The color of the progress bar will depend upon the side you choose. Not only this, by clicking the 'Speaker Icon' beside the volume slider, you will hear a 'Light Saber sound effect'.
8. Make your Chrome Tabs studded with Star Wars Background
Install this extension from Chrome Store and find different backgrounds of the side you choose from Star Wars. As soon as you open new tabs, you will see different wallpapers in tabs. Explore all the backgrounds by installing the extension.
Google will soon release new experience for Chrome, Android Wear and Chromecast. Stay tuned!
Was this post helpful?
Let us know if you liked the post. That's the only way we can improve.