Google Search Videos Now Show Auto-Playing Previews
Auto playing videos are a controversial topic. While many users consider them to be rather annoying, in some cases they might prove to be useful too. These auto-playing video previews have made their way to Facebook and YouTube, and are now on Google too. Google had reportedly been testing them on the Google Search videos for quite a while and has today made it official.
The Impact of Auto-Playing Google Search Videos:
When you search on Google, the search results usually show a couple of videos on the top. Till now, all you could see was a static thumbnail which represented the video. However, with this new update, these Google Search videos will now show auto-playing previews which give the user an idea of what the video is about. This update comes out with the intention of providing the users with more meaningful information about the content of the video without actually having to play it.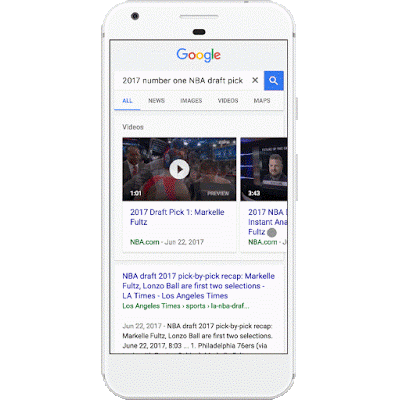 This update for Auto-Playing previews on Google Search videos, Google says, is starting today and will take about a week to reach all users. The update comes for Google Chrome for Android, as well as the Google App for Android. Google has also considered that this might be a little too data-heavy for users. The auto-playing previews on Google Search videos will play only when a user is on a Wi-Fi connection. However, for those who like this feature, this setting can be changed from the settings menu.
This decision of showing previews that auto-play portions of the Google Search videos is a controversial one. The massively unpopular auto-playing videos on social media have led to users towards believing that this is annoying. However after a careful thought, this is actually quite useful when it comes to Google Search, as it helps users quickly get a feel of what a video contains without having to manually seek through it.
Google Search is Google's primary offering and the company keeps updating it rather frequently. Last week Google introduced us to a new sidebar. How do you feel about this new update with auto-playing previews? Do you think it will have a positive impact on your search activity or is it annoying like it is on Facebook? Comment below and let us know!
Source: Google Blog