Google Plus Chat Easter Egg for Nyan Cat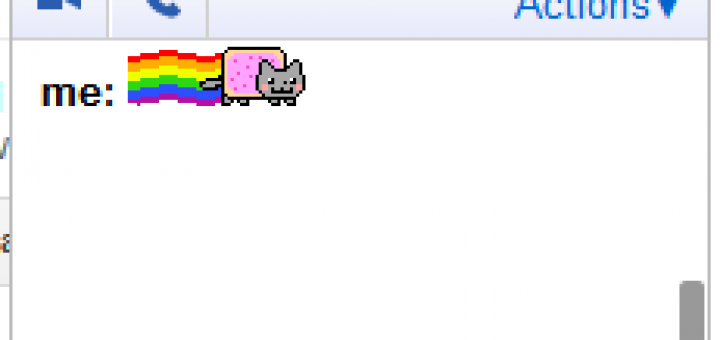 Nyan Cat, a famous internet meme is the new hidden easter egg of Google Plus. You can have this cat by typing ~=[,,_,,]:3 in your Google+ chat window. The emoticon is of an animated cat with a body of cherry pastry, flying through space and leaving a rainbow behind it. This lovely meme has a huge fan following and is quoted in thousands of forums and entertainment sites. You can also find its numerous videos on YouTube singing "Nyanyanyanyanyanyanya!". To leverage its popularity, Google Plus team made this easter egg which works only in G+ chat.
Just type ~=[,,_,,]:3 in your Google+ chat window and you will see instantly see a running nyan cat. Possibly this is the first of the undocumented emoticon for Google+ chat. And we believe more will be revealed soon just like we have discovered hidden Gmail chat emoticons.
Unfortunately, this works only for Google+ chat and not for Gtalk or Gmail Chat. However, we have other secret emoticons like V.v.V for crab, }:-)for devil, :(|) for monkey and many more for Gmail chat or gtalk gadget mentioned here.
(via)