How to Add Multiple Email Aliases to Your Gmail Account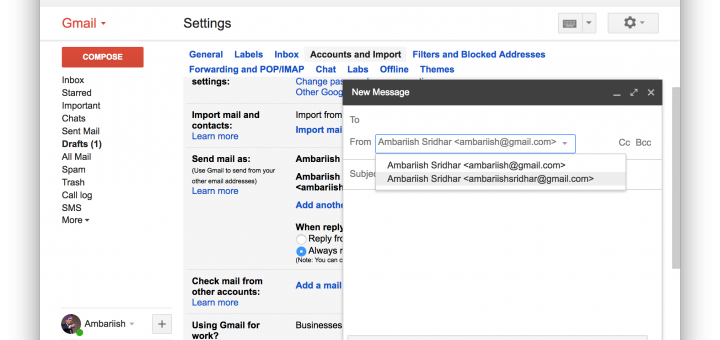 If you manage multiple Gmail accounts to separate your family from the business, chances are that you instantly use the account switcher to switch between accounts or use a specific URL to do so. What if you're in a hurry to quickly send someone an important email from a different email address without switching? This is where Google's email alias feature comes into play. Google has made it possible for users to add multiple email aliases to their personal account and this is how to go about it.
RELATED: How To Keep Your Gmail Account Secure From Hackers
Create an Email Alias in Gmail
It's pretty simple to create an alias but you'll need to be on the desktop version of Gmail to do so.
Step 1: Navigate to the Gmail website and make sure it's your main (default) account. Here's how to make any account the default one if you're unsure.
Step 2: Press the gear icon & select the Settings button.
Step 3: Navigate to the Accounts & Import tab which is highlighted below.
Step 4: Press the Add another email address button highlighted in blue.
Step 5: Enter in the relevant Name and Email address for the alias.
Step 6: This will prompt Gmail to send a verification message to the email of the alias.
Step 7: Once granted, check the inbox of the alias account for a verification code & copy it.
Step 8: Paste the code in the other pop-up window & hit verify.
The changes should reflect in the Settings page. You also have the option of making any of the aliases the default email when composing messages.
Furthermore, when the Reply from the same message was sent to option is selected, Gmail will automatically use the alias that was used to send the email when replying to messages.
The changes should be instantly reflected in the desktop & phone as seen below.
Adding an Alias for Yahoo & Other Third Party Services
For adding an alias which is associated with another company like Yahoo, get the respective SMTP settings. Then enter the password to authorise the addition of the alias.
Conclusion
That concludes the article on adding multiple email aliases in Gmail. It's a simple procedure which will save a lot of time for power users.