Google Drive Scans Documents and Images, You Don't Need a Separate OCR Application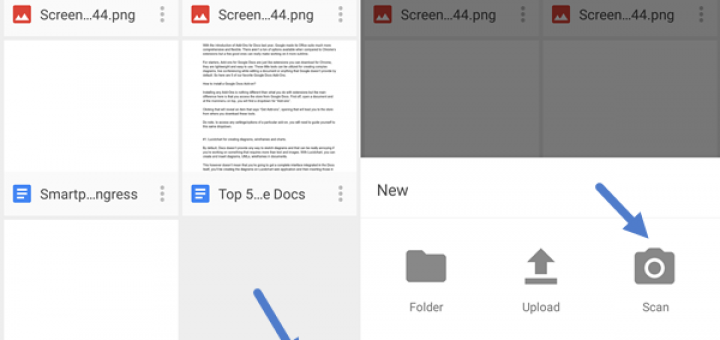 Scanning documents on smartphones have become a common thing, gone are the times when people bought a standalone hardware for it. As of result, there are tons of scanning applications available on the store which offer an endless stream of features. For instance, "Office Lens by Microsoft" or "CamScanner". However, there's already a built-in scanning option with OCR in Google Drive app available to use. Here's how to access it.
OCR Scan with Google Drive Application
To get started, head into the Google Drive app on your phone. Once opened, hit the floating plus present on the bottom right corner. In there, you'll find the "Scan" option. Tap that and it will launch a camera viewfinder from where you need to capture the document's snapshot. After clicking one, it will show you a preview where you can do a bunch of customizations.
#. You can crop the image via the icon located on the top action bar, it allows dynamic cropping which basically means you can alter the corners too for getting a perfect size.
#. The color palette icon right next to crop will let you choose between various patterns including black and white, color, color drawing or none. By default, it will apply black and white.
#. To capture the picture again, you can click the retry icon on the bottom or you can add more pages in resultant PDF through the "+" option.
#. There are a couple of other actions available under the three dots menu on top. You can delete the particular page, rename the scan, rotate or personalize some core settings. Enter the settings which contain some advanced tunings including image enhancement, the paper size which range from A4 to US Letter or you can just alter the paper orientation.
#. Tap the tick icon and the scanned image or document will be uploaded as PDF to your Drive account. That's it, you're done.
#. Although it doesn't allow saving the image directly if you're offline. As a workaround, you can perform a screenshot and get the image file.
#. To recognize text from images or to use OCR functionality, head over to Drive settings and enable "Convert Uploaded files to Google Docs editor format". Drive will now create a document for your scanned file which will have text along with the image. The OCR text will also be searchable in Drive.
#. You can also manually convert the scanned image into editable text by right clicking on the uploaded document and selecting Open with > Google Docs. Drive's OCR technology works pretty well but it messes with the formatting.
Though document scanning feature was added long ago, a whole lot of users are unaware of this update. Direct syncing with Google Drive will also eliminate the need for uploading the files separately now. Adding pages to the PDF is for me the highlight here, you can go ahead and attach multiple documents together without the need for installing another application at all.
In terms of sheer quality, I would still prefer Office Lens as it is a bit more flexible and intelligent when it comes to recognizing the document size. Nonetheless, Google Drive app gets the job done for simple scans.
Was this post helpful?
Let us know if you liked the post. That's the only way we can improve.