3 Ways To Keep Android Screen On When Idle
Most Android phones' screens turn off after 15-30 seconds of idle time. This is important to prevent excessive battery drain and keep your phone secure by locking it when idle. However, there can be situations when you may need to keep your Android's screen on, such as when you need to watch a video or play a slow-paced game that doesn't natively support the screen-on feature.
Well, there are a bunch of ways to keep the screen on using both built-in features and third-party tools. In this post, I am going to show you 3 ways to keep the Android screen on.
Method #1: Extend screen timeout from settings
This is the easiest option to keep your Android screen on. Although it comes with the limitation of only allowing a max screen-on time of 30min, in practice, 30min is more than enough. I personally only use this feature for keeping my Android screen on when needed. It might be cumbersome to tap on the screen every 30sec, but doing it once even 30min is surprisingly convenient. Here's how to do it:
Go to the phone "Settings" and tap on "Display".
Now tap on the "Sleep" option and select "30 minutes" from it.
Now your screen will only turn off after being idle for 30min. You can still turn it off early using the power button.
Method #2: Keep Android screen on while charging
There is also another option to keep your Android screen on permanently, but it only works while charging your phone. If your phone will be kept idle while charging, then this is a great built-in option that offers a permanent screen-on.
This function is actually available in the developer options of your phone. By default, the developer options are disabled on most Android phones, if you haven't enabled it on your phone, then follow this step-by-step guide to enable developer options.
Once enabled, developer options should be listed at the bottom of the "Settings" or inside the "System" option in it. In the developer options, enable the "Stay awake" option.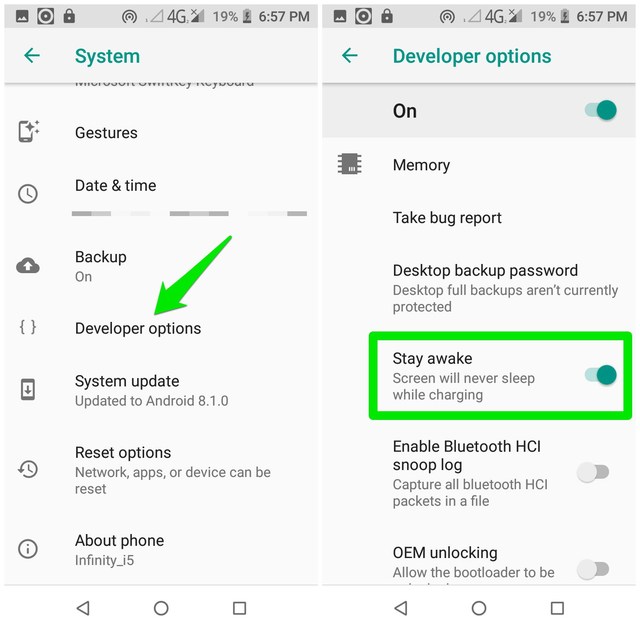 Now your phone screen will not turn off as long as it is being charged.
Method #3: Use a third-party app
This is the most powerful option to take complete control over the screen timeout of your phone. There are many apps on the Google Play Store that let you keep the screen on indefinitely when idle. I have tried many apps for this purpose and found Screen Timeout to be the best. It's a feature-rich app that lets you control screen turn-off time in a plethora of ways. Although it is ad-supported, its advanced features are not gated behind a paywall, unlike other similar apps.
After installing the app, you will first have to give it accessibility permissions so some of its advanced features could work. Afterward, tap on the "System sleep time" option to select the default sleep timer of your phone. Here you can select up to 24 hours as the max sleep timer, unlike the default 30min max of your phone.
Interestingly, the app also lets you keep the Android screen on for certain apps individually. So you can have a 30sec timer on one app and 1 hour on the other.
Apart from this powerful control, the app also has some other interesting features to make the process convenient. Like you can allow the app to turn off the screen (no matter the sleep timer) when you put your phone inside your pocket to avoid accidental taps. It can also turn off the screen when the phone battery is low to avoid draining the battery.
Ending thoughts
For most users, I am sure the first method will work fine as 30min is sufficient time to watch something without touching the phone. However, if you want full control, then the Screen Timeout app is really amazing and gives you full control over when you want the screen to timeout. Let us know in the comments which one of these methods helped you keep your Android screen on.
Was this post helpful?
Let us know if you liked the post. That's the only way we can improve.